46743070@N06
Bio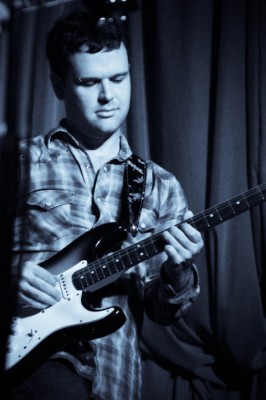 Jeremy Shabo is a Los Angeles-based composer, producer, arranger, and songwriter for film, television, and albums. He studied composition and orchestration at Berklee College of Music. He began studying music theory as a child with composer/ guitarist Pete Snell (T. Bone Burnett, Lyle Lovett, and Annie Lennox.) Jeremy was also mentored by blues legend B.B. King for over a decade.
The time he spent with B.B. King inspired Jeremy to dig deeply into traditional American music. He spent years learning blues and country on electric, acoustic, slide, and resonator guitars. This gave him a deep-rooted understanding of music in the western genre. Another big influence were the haunting, unforgettable themes of classics like High Noon and The Good, The Bad, & The Ugly. Shabo is known for blending traditional themes with contemporary sounds to give his music a modern edge.
Jeremy grew up listening to the epic orchestral scores of John Barry and James Horner. He enjoys writing both traditional, orchestral and "hybrid cues" that include electronic elements. One of his major goals is to compose music for big action/ adventure films.
Shabo enjoys the subtle comedic timing of the music in shows like Glow, Vice Principals, and Arrested Development and also the wide variety of instrumentation that is used. Another goal of his is to write more music for comedy.
Jeremy has composed original music for Channing Tatum's production company, 33 & Out, for its pilot "Saints and Sinners" (A&E) and for writer/ director Larry Wilson (Beetlejuice, The Addams Family) web series "Cindy." He has written music for films and commercials with cinematographer Reynaldo Villalobos (Breaking Bad, A Bronx Tale, Risky Business) and Oscar-nominee Edward James Olmos. In addition, Jeremy did some work for Grammy-winning jazz artist and film composer Stanley Clarke.
As a songwriter, Shabo's work has appeared on the CBS crime drama "Criminal Minds" and on the radio. His skills are sought out by artists from a wide range of musical genres, including rapper Aceyalone (Capitol Records), punk giant George Hurley (The Minutemen, Firehose), Nicole Eva Emery (Bob Dylan, Rickie Lee Jones, Jesca Hoop), Ulrich Wild (Deftones, White Zombie), Alex Lilly (Beck, Lorde, The Bird & The Bee), and electro-rock band Woven (Interscope); who have all asked him to write, produce, or perform with them.
Jeremy is currently scoring a TV pilot written by Robert M. Young (Battlestar Galactica, Triumph of the Spirit, American Me). He is also writing and arranging on multiple projects for producer/ engineer Gerry "The Gov" Brown (Alicia Keys, Mary J. Blige, Andra Day, Raphael Saadiq, Vanessa Williams), a 15-time Grammy nominee and 3-time winner.
I consider some people to be musical brothers and some are more like nephews or sons. You are in that second group.

B.B. King to Jeremy Shabo

I'm no B.B. King, but I know good music. And Jeremy Shabo is good music.

Gary Calamar
KCRW, Music Supervisor: Dexter/ True Blood